Galeria Aniela
The World's Local Fine Art

HOME
Galeria Aniela specializes in selling museum-quality ART if impeccable provenance
SCULPTURE
If you LOVE quality Art of impeccable provenance, the art you want is at Galeria Aniela
The Art of Giving Quality Service

Guy Martin à Beckett BOYD SCULPTURE (1923-1988)

Guy Boyd 1923-1988 belongs to the Boyd family that began in 1886 with the marriage of Emma Minnie Boyd à Beckett 1858-1936 and Arthur Merric Boyd Senior 1862-1940.

VIDEO Guy Boyd, Australian National News ABC TV

Father William Merric Boyd (1888-1959)


Brothers Arthur Boyd and David Boyd

Daughter Lenore Boyd

Janusz Kuzbicki B. 1958 an accomplished artist

If you require an advice or consider purchasing or commission a work of art, we respond quickly addressing your request, helping you to save time and money.

Please feel free to contact us to discuss ways in which we can assist you - Enquire

Commissions range from small to monumental, architectural application for civil and ecclesiastical purpose from bronzes to major 'Centenary of Australian Federation stained glass window' for Windsor Castle, UK presented to Her Majesty the Queen Elizabeth II.

Lenore BOYD SCULPTURE Born 1954


Lenore is a renown Australian artist influenced by classical Master including Auguste Rodin, Aristide Maillol, Michelangelo, Antoine Bourdelle and Guy Boyd (1923-1888).

Lenore

has deep understanding of the human form and appreciation, began sculpting at an early age

,

studied sculptural technique in studio of her father

Guy Boyd

,

a famous

Australian

sculptor

.

VIDEO: Lenore Boyd Australian National News ABC TV

Stephen Glassborow is one of the most successful and most prominent Australian artists. Glassborow specializes in bronze Sculptures, exhibiting widely around the world.

COLLECTION: Australia, Singapore, Hong Kong, Kuala Lumpur, Korea, China, America and Europe.

If you require an advice or consider purchasing or commission a work of art, we respond quickly addressing your request, helping you to save time and money.

Please feel free to contact us to discuss ways in which we can assist you - Enquire

Deborah Halpern SCULPTURE Born 1957

Deborah Halpern is one of Australia's most celebrated sculptors. Creator of many Melbourne's most loved mosaic public sculptures inspired by the free spirit of Gaudi and Picasso.

Halpern's Angel was commissioned by the National Gallery of Victoria and Ophelia is the official face of Melbourne. Halpern works exude vitality and simplicity.

Spontaneous in form, Halpern sculptures recalls visions of playful surrealism of French sculptor Niki de Saint Phalle, yet all are distinctly Halpern with ability to delight and surprise.

Robin Holliday SCULPTURE (1932-2014)

Robin Holliday is an important Australian sculptor with a distinguished career in molecular biology.

He proposed a mechanism of DNA-strand exchange that attempted to explain gene-conversion events that occur during meiosis in fungi.

Robin Holliday model first proposed in 1964 is now known as the Holliday Junction.
Danielle Legge SCULPTURE Born 1953


AWARDS: (1998) the Stanthorpe Arts Festival SCULPTURE competition Award

COLLECTION: Australia, America, Mexico, England, Ireland, France, Portugal, Spain, Hong Kong, Singapore, Japan and Tasmania.

Dino Rogliani SCULPTURE (1932 - 2017)

AWARDS: 2008 Winner Exibition Campbeltown Art NSW; 2005 Award of the Artist on Norton Sydney; 2002 Winner Artist on Norton Sydney; 2002 Winner SCULPTURE Prize Holroyd City; 2002 Winner Local section Fisher`s Ghost; 2000 Winner at Campbelltown Art Gallery; 2000 Encouragement Award Fisher`s Ghos

Peter Smith

SCULPTURE

(1938-2005

)

AWARDS: President position of Boort Fiesta from its Conception, an annual festival devoted to arts: painting, SCULPTURE, photography, film, music, food and wine.

Peter Smith passion for bronze SCULPTURE portray women in sensual aspects.

Bronze facsimile

Global artists

Isidore-Jules Bonheur (1827-1901)

Title: Jockey à Cheval

Medium:

Bronze facsimile Signed in Plate

Size: 55 cm x 56 cm

Price: $2,950 Enquire

price subject to change without a prior notice

Antonio de Francisci (1887-1964)

Title: Girl with Golden Hair

Medium: Bronze facsimile Signed in Plate

Size: life size (approx. 165cm)

Price: $30,000 Enquire

price subject to change without a prior notice

Auguste Rodin (1840-1917)

Title:

Girl

Medium: Bronze facsimile

on Granite Signed in Plate

Size: 32 cm x 32 cm


Price: $2,200 Enquire

price may change without a prior notice

About Bronze Facsimile

BRONZE Facsimiles are expensive to cast, they should be enjoyed as beautiful objects giving JOY yet can be purchased for a fraction of the original historical limited edition Bronzes prices. BRONZE Facsimiles are made to slightly differ from the original, historical limited edition bronzes.

What is Facsimile?

Facsimile from Latin fac simile (make alike) is a reproduction of a unique item. A Facsimile is a reproduction of an item of historical value, it can be a bronze or other item like a art print, book, manuscript or map.

Cost of producing Bronze Facsimiles

Casting a Bronze Facsimile is an expensive process because casting a Bronze is a highly specialized and costly process. Producing a Bronze Facsimile would cost the equivalent of few thousands of dollars. Bronze facsimiles are priced at a fraction of a limited edition price and the cost of the original. Read A facsimile in bronze of Seneca and Nero

When Facsimiles are produced?

Facsimiles are produced after a famous artist passed away.

Why Facsimiles are produced?

Facsimiles are produced to generate income to supplement the cash flow of the artists' Museum or Trusts and to continue promoting the artist.

Facsimiles are also produced for educational purposes by scholars to research and by museums and archives for media preservation and conservation.

Most Facsimiles are sold commercially and occasionally may be produced in limited editions, sometimes accompanied by a commentary, typically 2,000 copies but for some artists like Dali it would be even much higher number.

When limited editions are done?

Limited editions are produced by the artist, intentionally made to differ from the original. A limited edition is hand signed and numbered by the artist.

Making

a Bronze Casting

Bronzes are produces by casting using the "lost-wax" process.

The earliest "lost-wax" castings date almost 7,000 years.

A wax mold must be made from the "original form" that often is made in clay or plaster. Surface replication of the "original form" can be achieved with a polyurethane mold compound or a high-quality silicon rubber.

The rubber mixture is applied (several coats) directly to the surface of the "original form". A mold most generally consists of three to five coats of rubber (applied over the course of several days).

Once the final coat of rubber has dried, a firm outer "jacket" is made to retain the shape of the flexible rubber mold for pouring the wax replica. This "jacket" is usually made out of plaster, Hydrocal, resin, or epoxy, and is called the "mother mold".

Then the "jacket" is removed, and the rubber is cut away from the "original form", what is called a parting line (simply the division line for the mold). The SCULPTURE has now gone from a positive form to a negative form.

If the SCULPTURE is large or complex, it will be divided into smaller pieces, and each piece will require an individual mold. The pieces will be rejoined later, after the SCULPTURE is cast in bronze, to make the complete SCULPTURE whole again.

With the "mother mold" complete, positive forms can now be generated by pouring a wax replica. Pouring a wax is usually done in four stages or coats. The first coat is applied by heating the wax to a temperature of approximately 220 degrees Fahrenheit. While the wax is quite hot, the mold is rotated about, in an attempt to coat the entire internal surface of the mold with the melted liquid wax, which is poured into the "mother mold" through a hole. The second coat of wax is applied slightly cooler, at around 200 degrees. The final two coats go on at approximately 180 to 185 degrees. A completed wax is approximately 1/4" thick, or just slightly thinner. When the wax cools and the mold is removed, a wax positive of the SCULPTURE emerges. Follow by procedure of repairing all of the imperfections that were created during the pouring process of the wax to maintain the original details within the mold.

The finished wax is a positive replica of the "original form". The ceramic shell process requires a series of dipping the wax positive into a mixture called slurry to create a hard shell. When the ceramic shell is complete, it is placed in a high pressure sealed oven, known as an autoclave. High temperatures (1500 to 1800 degrees Fahrenheit) and pressure force the wax from the shell and the wax melts out, thus becoming "lost". This is where the name "Lost-Wax Process" has been derived.

When the ceramic shell is empty of wax, it is then re-fired and made ready to have the molten bronze poured into it.

Solid blocks of bronze, meanwhile, are heated to a temperature of approximately 2250 degrees Fahrenheit so that liquid bronze is created. The liquid bronze is stirred and prepared for the pour. Bronze is an alloy of 95% copper, 4% silicon and 1% manganese with traces of other elements such as iron.

When the molten bronze is ready, the foundry workers very carefully lift the crucible, containing the liquid bronze, out of its heating furnace. The workers must wear protective face shields, clothing, gloves, and boots.

Moving quickly and precisely, the foundry workers pour the liquid bronze into each awaiting ceramic shell. When the ceramic shells are full with the poured bronze, they are then left to cool for several hours. The negative spaces within the ceramic shells have now become positive bronze castings.

Once the bronze and ceramic shell has cooled, the ceramic shell is broken off to separate the metal bronze from the shell. This is done with hammers, tools, power tools, and sand blasters.

Then the process of finishing begins making the metal back to the appearance of the original. This process usually involves a fair amount of welding with a high frequency welder.

When the final piece is all welded together and chased to perfection, the bronze is next sand-blasted (or bead-blasted) to make it very smooth and shiny. Using a sand-blast cabinet is the most convenient way to sand-blast a SCULPTURE.

After the SCULPTURE is sand-blasted, the Patinazation is the next stage. The "patina" is the color of the bronze. The 'patina' colorization of a SCULPTURE: The patina "colorization" is made in the foundry by applying chemicals. "Patinazation" the process of chemical reaction between bronze, acidic chemicals, and high temperatures oxidize the surface of the metals. Certain chemicals will produce certain predictable colors when they are sprayed on the bronze and then heated up.

The patina process begins by heating the surface of the bronze to a temperature of approximately 450 to 475 degrees Fahrenheit. The surface will have a nice golden appearance when it is ready. A wide variety of techniques can then be used for chemical application, the most common being done with natural bristle brushes. Chemicals can also be applied with spatter guns, spray bottles, and airbrushes.

The outdoor atmosphere is more corrosive to a patina as it carries a higher content of manmade pollutants, and metal protectant is recommended for any SCULPTUREs placed outdoors.

After the completion of all of the above steps, a unique bronze SCULPTURE will have been produced and can now be sold.

Find more about bronze SCULPTURE here

Bronze was discovered in the Bronze Age (thousands of years ago). In the art world, bronze is known as a metal alloy used in statues. It implies prestige, and timelessness that is not found in other metals. The process of making bronze combines copper and tin is undertaken in a foundry where the two alloys are combined under great heat. Molten bronze can then be poured into a mould and shaped to any design. Once the mould is broken and the bronze allowed cooling, a perfect facsimile of the object is left behind. Additional polishing or burnishing to remove any imperfections is undertaken and the piece is then ready for display. The demand for bronze has made it a rather expensive material especially given its weight. Anyone who has ever picked up even a small statue made from bronze has marveled at how heavy it is. As such, shipping, handling and installation of bronze statues and plaques must be undertaken with great care often accompanied by great expense.

Galeria Aniela specializes in selling museum-quality ART if impeccable provenance
Founded in 1994, Galeria Aniela FINE ART exhibited and hosted world-class artists as well as receiving famous celebrities including Sir David Attenborough, the Prime Minister of Australia Bob Hawke and Cameron O'Reilly. Galeria Aniela has built a strong standing in Australia and Internationally.
Beginning in Kangaroo Valley, Galeria Aniela relocated to Bowral continues to support Australian artists. When you purchase a work of art from Galeria Aniela, we immediately pay the artist, helping artists make a living with their creations.

Galeria Aniela FINE ART Bowral NSW | watch video
The BOYD family show in Galeria Aniela coup the front page Sydney Morning Herald, Australian National NEWS, ABC TV and Sunday Afternoon, ABC TV. Galeria Aniela's John Perceval Retrospective exhibition won Australian National NEWS, ABC TV and Charles Blackman Retrospective attain the Art-Scream.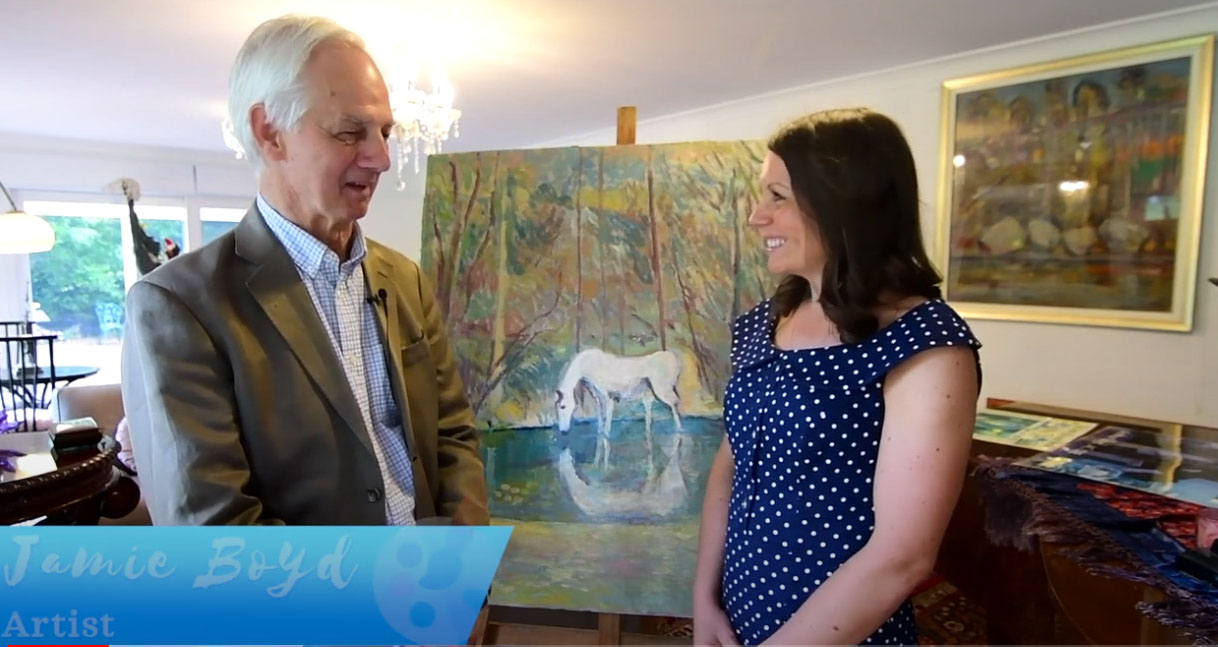 Jamie BOYD ARTS Trail Exhibition | Galeria Aniela FINE ART Bowral NSW |watch video
Combining connoisseurship in art with the knowledge of Art and a wide network of resources, Galeria Aniela sells quality works of art of impeccable provenance.
Whether you are a first time buyer, an astute investor or enthusiastic collector, our people focused approach ensures an enjoyable and rewarding experience.

If you require an advice or consider buying ART, we respond quickly, addressing your concerns based on your request, helping you to save time and money.

We welcome the opportunity to speak with you, warmly invite you to contact us to discuss ways in which Galeria Aniela may assist you now and in the future.