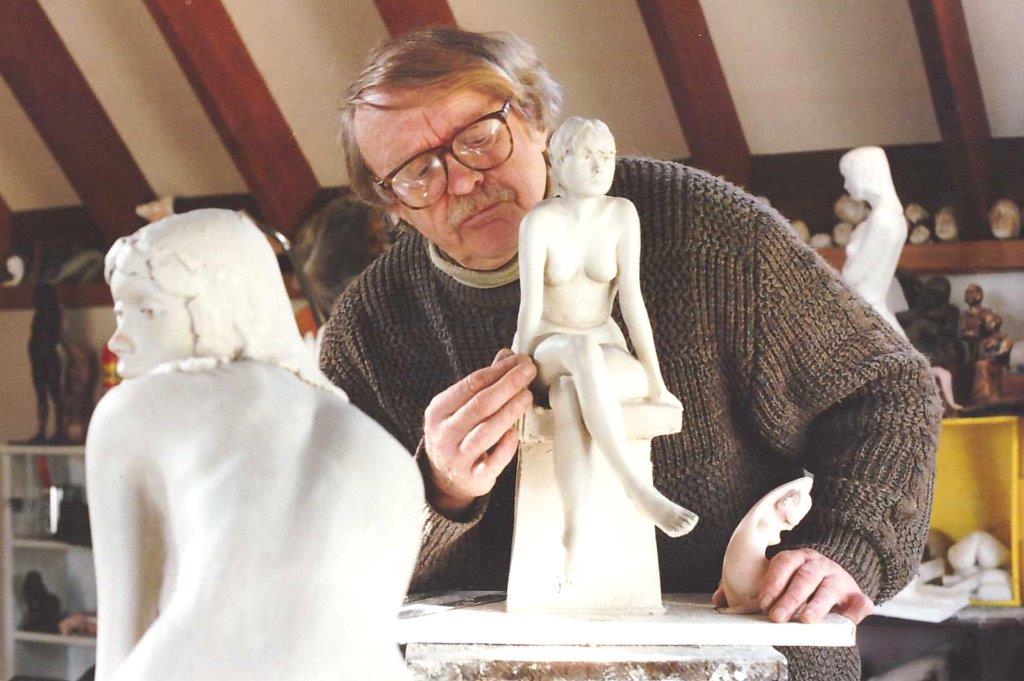 Dr Peter Smith
(1936-2005)
was an accomplished Australian sculptor and also
a
medical doctor, he graduated medicine in 1962 at Bristol University.
Peter Smith
talent was accompanied by his vast knowledge of materials, and
wide-ranging expertise in casting sculptures. He
was involved in finishing his bronzes and personally chosen patinas
.
He worked in bronze and also clay and concrete

.
Peter Smith was the president of Boort Fiesta, an annual festival devoted to the Arts. Peter Smith work is represented in collection throughout Australia, UK, New Zeland and Europe. The artist was a colourful, good-humoured, fun-loving man who loved life.
Peter Smith was 'larger than life' he was passionate about fine art, film, music, food, wine, sculpture, painting, photography and the life itself. Peter Smith exquisite sculptures will last forever and continue to be enjoyed by many generations of art lovers.
PETER SMITH Biograph
y
(1936-2005)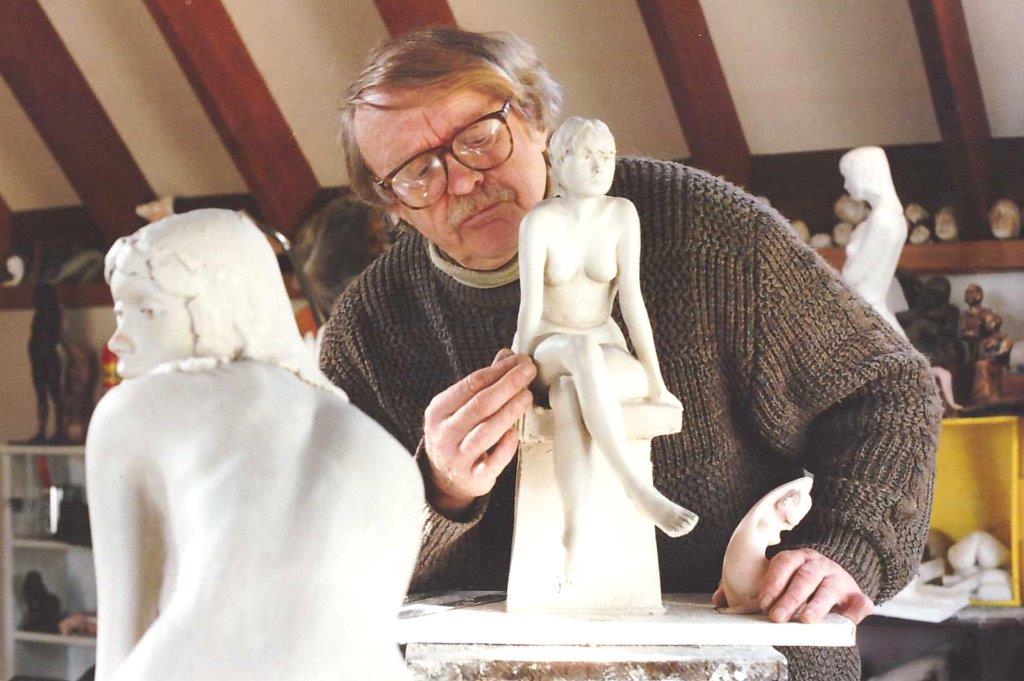 Peter Smith was born in Gloucester (England) in 1936. Dr Peter Smith was an accomplished sculptor and passionate about art, sculpture, painting and photography, film and music, food and wine. A certified medical doctor at Bristol University, he graduated medicine in 1962.
Peter Smith arrived to Australia in 1964, he continued working as a doctor at the same time he embraced making sculpture. Peter Smith developed enthusiasm for making bronze sculpture to portray a woman in her sensual aspects.
Peter Smith worked mostly in bronze however he also used clay and concrete. He was personally involved in finishing his bronzes with a chosen patina. He
had widespread understanding and practice in making the moulds for his own sculptures.
His
talent is accompanied by vast knowledge of materials and experience in sculpture, and
wide-ranging expertise in casting bronzes.
Peter Smith accepted a president position of Boort Fiesta from its Conception, an annual festival devoted to the Arts. He participated in many art exhibitions.
Peter Smith work is represented in many private collection
throughout
Australia, New Zeland and Europe
.
Peter Smith was a very colourful person and fun-loving, good-humoured, lovable man, who loved life. He was 'larger than life' works of art he created continue be enjoyed by numerous generations.
MAJOR EXHIBITIONS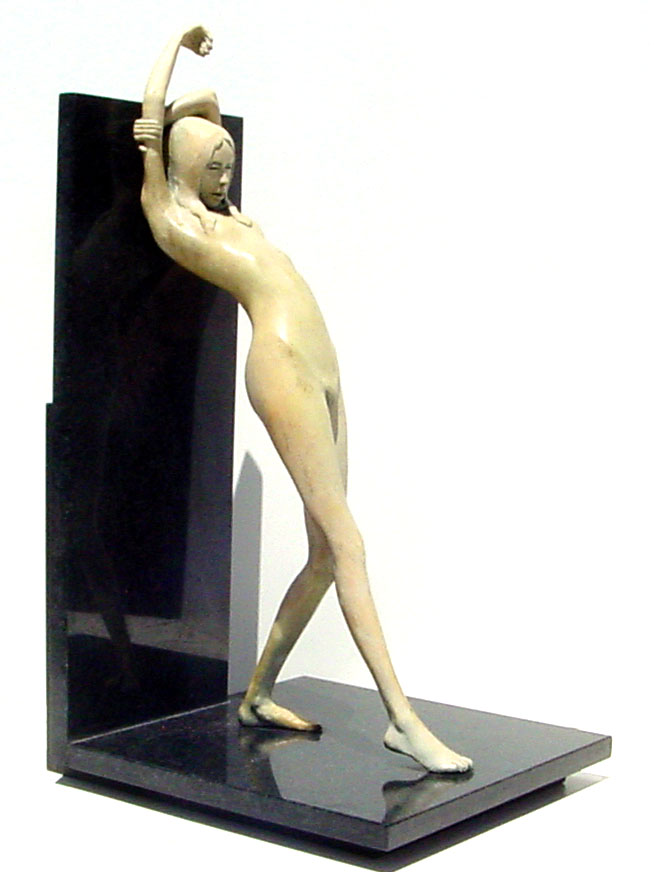 1984 Bendigo Fine Arts Gallery, VIC
1987 Manyung Gallery, Mount Eliza, VIC
1988 Shearers Arms Gallery, Geelong, VIC
1989 Holdsworth Galleries, Sydney, NSW
1891 Terra Australian Gallery, Melbourne, VIC
1994 Forest Gallery, NSW
1993 Holdsworth Galleries, Sydney, NSW
1995 Noosa Fine Arts Gallery, QLD
1995 Redhill Fine Arts Gallery, QLD
1996 Galeria Aniela Fine Art Gallery, NSW
1997
Redhill Fine Arts Gallery
,
QLD
1998 Forest Gallery, NSW
1999
Galeria Aniela
Fine Art Gallery, NSW
Fairy

Lady

(

From Wikipedia, the free encyclopedia)
Pixies

,

Sprite

Country: Western European Habitat: Woodland and Gardens.

A Fairy (also faery, faerie, fay, fae;

euphemistically

wee folk, good folk, people of peace, fair folk) is a type of

mythical

being or

legendary creature

, a form of

spirit

, often described as

metaphysical

,

supernatural

or

preternatural

. Fairies resemble various

beings of other mythologies

, though even

folklore

that uses the term fairy offers many definitions. Sometimes the term describes any

magical

creature, including

goblins

or

gnomes

: at other times, the term only describes a specific type of more

ethereal

creature.
Fairies appeared in medieval romances as one of the beings that a knight errant might encounter. Fairies in literature took on new life with Romanticism. Writers such as Sir Walter Scott and James Hogg were inspired by folklore which featured fairies, such as the Border ballads. Fairies are generally described as human in appearance and having magical powers.
Their origins are less clear in the folklore, being variously dead, or some form of demon, or a species completely independent of humans or angels. Folklorists have suggested that their actual origin lies in a conquered race living in hiding, or in religious beliefs that lost currency with the advent of Christianity. These explanations are not necessarily incompatible, and they may be traceable to multiple sources.
Much of the folklore about fairies revolves around protection from their malice. Although in modern culture they are often depicted as young, sometimes winged, humanoids of small stature, they originally were depicted quite differently: tall, radiant, angelic beings or short, wizened trolls being two of the commonly mentioned forms.
One common theme found among the Celtic nations describes a race of diminutive people who had been driven into hiding by invading humans. When considered as beings that a person might actually encounter, fairies were noted for their mischief and malice. Visit http://en.wikipedia.org/wiki/Fairy
From Wikipedia, the free encyclopedia - Mermaid (disambiguation). Similar creatures Siren, Merman, Ondine. A mermaid is a legendary aquatic creature with the upper body of a female human and the tail of a fish. Mermaids appear in the folklore of many cultures worldwide, including the Near East, Europe, Africa and Asia.
The first stories appeared in ancient Assyria, in which the goddess Atargatis transforms herself into a mermaid out of shame for accidentally killing her human lover. Mermaids are sometimes depicted as perilous creatures associated with floods, storms, shipwrecks, and drowning.
In other folk traditions (or sometimes within the same tradition) they can be benevolent, bestowing boons or falling in love with humans. Mermaids are associated with the Sirens of Greek mythology and with the Sirenia, a biological order which comprises dugongs and manatees. Historical sightings by sailors may have been the result of misunderstood encounters with these aquatic mammals.
Christopher Columbus reported seeing mermaids while exploring the Caribbean, and sightings have been reported in the 20th and 21st centuries in Canada, Israel, and Zimbabwe. The US National Ocean Service stated in 2012 that no evidence of mermaids has ever been found.
Mermaids have been a popular subject of art and literature in recent centuries. Danish author Hans Christian Andersen wrote his popular fairy tale "The Little Mermaid" in 1836. They have subsequently been depicted in opera, paintings, books, films, and comics. http://en.wikipedia.org/wiki/Mermaid
RETURN TOP