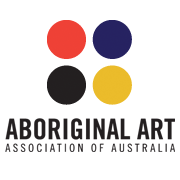 Biography Lynette Granites Nampijinpa
Share

RETURN TOP
Lynette Granites Nampijinpa is an established Australian artist, see Curriculum Vitae is on page 171 Australian Aboriginal Artists dictionary of biographies.
Lynette Nampijinpa Granites was born in 1945 at Mt Doreen cattle breeding Station about 55 km west of Yuendumu and an Aboriginal community 290 km north-west of Alice Springs in the Northern Territory of Australia.
When Lynette was a little girl she grew up and was educated at the Baptist Mission in Yuendumu. Lynette married her first 'promised' husband and had two children.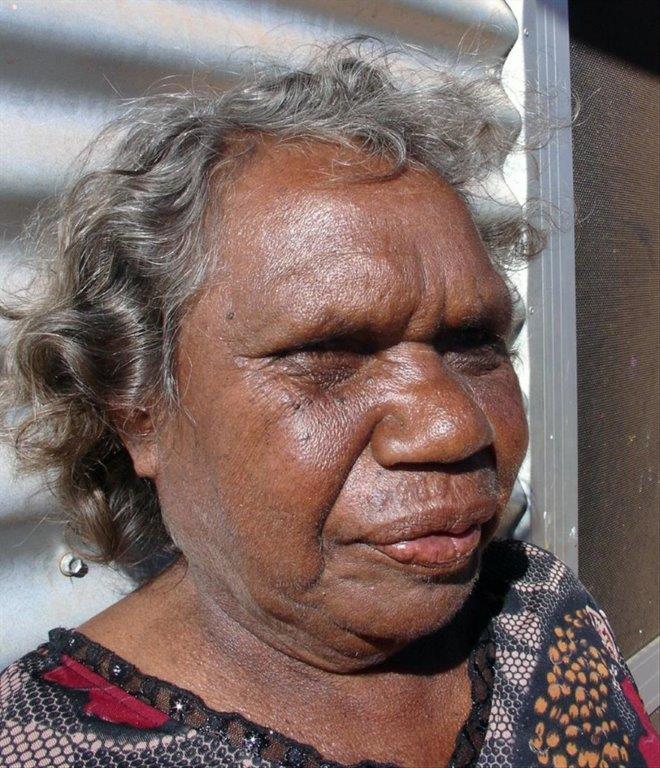 In 1973 with an extensive Health training Lynette began working at the Yuendumu Health Centre. Her Health worker job took her to Darwin, Alice Springs and Adelaide where she attended workshops and conferences.
Later Lynette Granites married her second husband Harry Jakamarra Nelson, a well-known Australian artist, a Warlpiri elder, an Aboriginal activist, a Yuendumu Council Chairman and a President.
In the 80's Lynette Granites Nampijinpa commenced her painting career for the Warlukurlangu Artists Aboriginal Corporation and since 1985 she has been producing some of the finest works of art.
Warlukurlangu Artists Aboriginal Corporation in Yuendumu is an Aboriginal owned and governed art centre located producing gloriously coloured artworks supporting the Aboriginal community of Yuendumu. Warlukurlangu Artists is one of the longest running and most successful Aboriginal-owned art centre in Central Australia.
Lynette
paints her father's and grandfather's Jukurrpa Dreamings which relate directly to her land, its features and the plants and animals that inhabit it. These stories were told to her by her sisters, particularly her big sister.
Lynette Granites say: "All my sisters are gone now but they taught me to paint, they told me my stories. What I like about painting is the Dreamings".
With Warlukurlangu Artists Aboriginal Corporation Lynette Granites work has a national and international profile and its art has been featured in hundreds of exhibitions and publications in Australia and around the world.
Warlukurlangu means 'belonging to fire' in the local language, Warlpiri, and is named after a fire dreaming site west of Yuendumu.
Lynette Granites Nampijinpa creates inspiring paintings, her top-quality artworks mesmerize the viewer, the images seem to move with the viewer's eye as the artist is able to captivate an illusion of multi-dimensional space and depth. Lynette Granites Nampijinpa masterworks are powerful, boasting the physical presence of the much contemporary work of art.
Lynette Granites work is recognized for bold use of color,
attention to
intricate
details and
particularly
beautiful
shades of colour
s
.
Lynette
Granites
work
has a distinctive linear fluidity

and rare energy which is infectious to the viewer and
contains a compelling v
isual and spiritual power.
Lynette Granites Nampijinpa work is represented in Australian and international collections:
Art Gallery of New South Wales
Museum & Art Gallery Northern Territory
Spazio Pitti Arte, Florence Italy
Vlaams Eurospeech, the Nerherlands
Meerzigt Zoetermeer Art Centre Rotterdam, the Nerherlands
Art and Soul Gallery Nashville, USA
Tennessee USA, Portland Art Museum
Cooloola Shire Public Gallery
many
private collections
France, Germany, Denmark.
2000 the 5th Biennale de Lyon France
Lynette Granites pays particular attention to details her artworks are skillfully painted with unrestrained beautiful colours.
Lynette Granites Nampijinpa quality artworks are painted with intricate shades and subtle tones seem to move with the viewer's eyes.
In her top-quality artworks, Lynette is able to capture the multi-dimensional depth and space.
Lynette Granites work is unique and constantly evolving, and yet characteristic to her artistic style.
Lynette is a skilful painter she creates expressive artworks, experimenting the style, palette, composition, subject and details.
Lynette Granites Nampijinpa work tell the story of the artist connection to her country.
Lynette paints often Pamapardu Dreaming, stories of Flying Ants, Bush Seeds, and Water Dreamings using her own creative depiction of the subject and the content with contemporary appearance.
Lynette Granites paintings explore the unique topography of her country, featuring the landscape, the plants and animals that are found there and the creation myths that occurred in the Dreamtime.
These stories are still very relevant to the artists today.
Pamapardu Flying Ant Dreaming
Pamapardu Jukurrpa Dreaming is of significance. Pampardu is the Aboriginal word Warlpiri people use in Central Australia for Flying ants and termites (Pamapardu) that build large anthills earth mounds homes called Mingkirri.
Pamapardu are widespread through Warlpiri country in central Australia of the Tanami Desert.
The Flying Ant Dreaming painting depicts Pampardu Jukurrpa from Wapurtali West of Yuendumu. Using traditional iconography of the Jukurrpa Lynette Granites Nampijinpa creates modern painting of Pampardu Dreaming.
The concentric circles represent Mingkirri earth homes and Rock Holes implicated in the painting story in the central one at Mount Singleton. Dashes are often depicted around the circles to represent the Pamapardu ants.
Pampardu Flying Ants Dreaming depicts the airborne travels of Ancestral Beings that travelled from the East through to Anmatyerr lands and then on to Warlpiri country.
Ancestral Beings landed upon solid ground for the last time west of Yuendumu, and through travels created creeks before retreating to a cave as his final resting place.
People sometimes use the word Dreaming in place of Jukurrpa most commonly found in Arnhem Land. Dreaming is an English word commonly used by Aboriginal and non-Aboriginal people alike to describe Aboriginal cosmology and the genesis of the World. The Dreaming encompasses the ancestral narratives about the supernatural and Ancestral Beings, and their epic deeds of creation.
The flying Ant is the winged stage of the termite, commonly viewed as a destructive force. However Watanuma of Flying Ants Dreaming acknowledges the important role the insects play in the ecology of country.
The painting depicts also the travels of a large group of women to Pinari and Watanuma rockholes, north-west of the Kintore Community. The women camped at these sites singing the songs and performing the dances associated with the area. Women travel to Pinari and Watanuma rock-holes for survival.
Jukurrpa is a Central Australian Aboriginal term used to describe the laws and protocols set by the Ancestral Beings who created the Universe and the World.
Share

RETURN TOP